Nailme is a 100% responsive, full screen, and full Pjax wordpress creative portfolio theme that is easy to use some custom layouts. PJAX will load content into a webpage and change the URL without doing a full page refresh, all while keeping the site SEO-friendly. Nailme has 54+ premade layouts for portfolio, blog and homepage. It is fast and easy switching simply by clicking a mouse. Backstage as a whole is able to customize easily. Finally, put a shortcode anywhere you like, even outside of all. Nailme can be used for portfolio, photography, personal website, company or any creative website.
Video Tutorials: Getting Started:
Feature List:
WordPress 4.7 compatible
Use PJAX to Speed Up Page Loading and Change the URL without Refresh
Keeping the SEO-friendly
100% Responsive & Mobile Ready
Retina Ready for Blog and Portfolio Pages
Translation-ready Using Provided PO File
Animated 3D Flipping Menu with CSS3
Quickly Choose from Our Premade Layouts and Options with Portfolio/Blog/Slides (Fast and Easy Switching Simply by Clicking a Mouse)
Filtering Animation, Infinite Scroll and Masonry Support (Fast and Easy Switching Simply by Clicking a Mouse)
Put a Shortcode Anywhere You Like, Even Outside of Posts and Pages
Google Map Integration and 10 Styles Support
Google Analytics Support
Parallax Layers for Sliders
Support logos & Copyright Information for Your Business or Brand
Support Setting Body, Heading, Site Title and Tagline Font Styles with Google Fonts
Category Filter Support using Shuffle for Portfolio
One Click Demo Install for WordPress Developers
Homepage, Contact, Blog and Portfolio Page Templates Support
500+ Icons in Font Awesome (Include Social Icon)
6 Post Formats for Blog – (Standard, Video, Quote, Link, Audio, Gallery)
3 Post Formats for Portfolio – (Standard, Video, Gallery)
9 Premade Portfolio Layouts for List Pages (You can create up to 54 predefined layouts by changing the options)
5 Premade Blog Layouts for List Pages
5 Homepage Styles
22+ Custom Shortcodes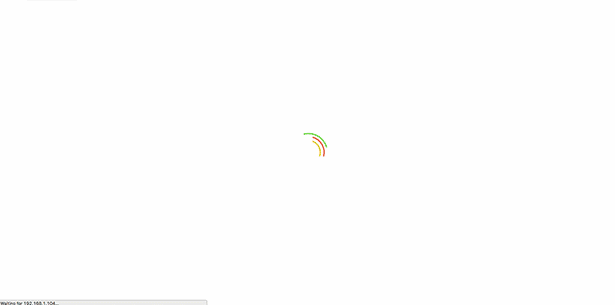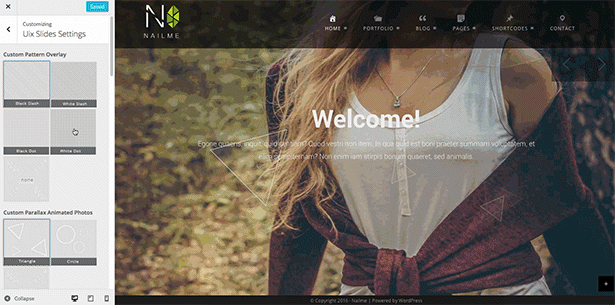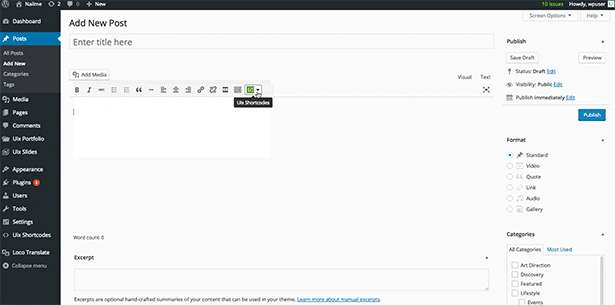 Theme Demo Content:
Import the XML file (.xml), you should now have both the theme content and the theme settings set up just like our demo.
The Demo Content does not include:
Demo shortcodes pages from mega menu. (Include a custom page for a variety of shortcodes.)
Different layout of the blog & portfolio pages. (Fast and easy switching simply by clicking a mouse for the Theme Customization screen, you do not need to create a custom page.)
Credits and Special Thanks:
All photos uploaded to the site are released under Creative Commons – CC0 and do not require attribution. No more hassle trying to figure out whether you can use photos for commercial use and whether you need to provide attribution. (Visite:https://stocksnap.io )
Part of the image and videos used in the demo are not distributed with the theme. They are all licensed under Creative Commons and credited to their respective creator/owner.
Resources:
Changelog:
= 2.1.5 =
* Compatible with low version PHP (5.3+)
* Fixed some minor errors in the low version of PHP.
* Optimized mobile navigation.
= 2.1.4 =
* Upgrade: Upgraded shortcodes.
* OPTIMIZE: Optimized for front-end display.
= 2.1.3 =
* UPGRADE: LOGO does not limit the height, you can upload the size you want.
* UPGRADE: Upgraded core shortcodes. ( Fixed some bugs & supported live preview )
* NEW: Added a full set of operational video presentations.
= 2.1.2 =
* UPGRADE: Upgraded the rtl.css, better support more countries.
* OPTIMIZE: Improved details from theme JavaScript files.
= 2.1.1 =
* UPGRADE: Homepage Emergence Menu.
* Fix: A little bit of compatibility issues.
* OPTIMIZE: Core stylesheets of homepage templates.
= 2.1 =
* COMPATIBLE: WordPress 4.7 compatible
* UPGRADE: Provides some selectors for color and position for Homepage Emergence (You can customize the style when previewing).
* UPGRADE: Homepage Emergence user guide for theme documentation.
* Fix: Fixed some bugs.
* OPTIMIZE: Improve the stability.
= 2.0.1 =
* UPGRADE: Upgraded core shortcodes. ( Improved the running speed greatly.)
* Fix: Fixed some bugs.
* OPTIMIZE: Optimized shortcodes structure.
= 2.0 =
* OPTIMIZE: Optimized for tablet display
* Fix: Updated some stylesheet.
* OPTIMIZE: Improved event binding from theme JavaScript files.
* OPTIMIZE: Improved event binding from theme admin panel.
* OPTIMIZE: Improved theme CSS files.
* Fix: Fixed some bugs for parallax and container shortcodes.
* Upgrade: Upgraded shortcodes.
= 1.8 =
* Simplified Operation: Enable mega menu
* UPGRADE: Mega menu user guide for theme documentation
= 1.7 =
* NEW: Added sticky post stylesheet
* OPTIMIZE: Optimized for font customization (Each part of your site is available)
* Fix: The date option of portfolio widget not available
* Fix: Updated some stylesheet
= 1.6 =
* OPTIMIZE: Optimized for theme customization
= 1.5 =
* OPTIMIZE: Optimized for javascripts
* OPTIMIZE: Optimized for the plug-in installation
= 1.4.1 =
* Upgrade: Upgraded shortcodes
= 1.4 =
* COMPATIBLE: WordPress 4.6 compatible
* NEW: Side menu support
* NEW: Add a new homepage style (Homepage Emergence)
* OPTIMIZE: Optimized single post templates
* OPTIMIZE: Optimized CSS for shortcodes
* RELEASE: A nice little bug fix release
= 1.3 =
* NEW: Add a new homepage style (Homepage Clean)
* OPTIMIZE: Optimized CSS for mobile & desktop
* REMOVED: Remove the `javascript` of bootstrap that was not required yet.
= 1.2 =
* OPTIMIZE: Optimized for CSS
* FIX: Shortcodes CSS tweaks
= 1.1 =
* OPTIMIZE: Optimized for menu
* OPTIMIZE: Optimized for slider of mobile
* FIX: Updating CSS
= 1.0 =
* Initial version